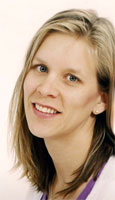 Before I was introduced to quilting by my aunt Roni, I was sure that only old ladies quilted, and only made traditional block quilts. When I started flipping through one of the "watercolor"� quilt books she brought over, I was hooked, and a whole new world was opened to me. My first quilt was an "art" quilt, though I have made some traditional quilts as gifts. I am now fascinated with all styles of quilting, especially admiring precision piecing and handquilting - things I don't have the patience for!

Most of my inspiration comes from the Lord. The Word of God is full of love, wisdom, and truth. I often use scripture verses in my work, either as a quiltng stitch, hand written with ink, or inkjet printed on fabric. I am also inspired by nature, the wonders of creation. I am never without my camera or sketchpad, to capture beautiful textures and forms.

I incorporate various techniques into each quilt, including piecing, appliqué, hand-dyed and painted fabrics, beading, felting, digital photography/inkjet printing on fabric, and threadwork.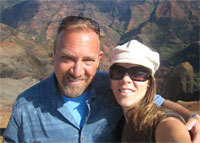 I received a BFA with a major in printmaking from San Francisco Art Institute in 1995. I loved printmaking for its diversity of techniques and applications, and I find quiltmaking equally diverse and exciting, without all the messy cleanup.

I am a homeschooling mother of three, an early-morning quilter, and wife to my wonderfully supportive husband, Jeff.
---

Exhibits:
Visions Art Museum
Teri McHale: Remnants
July-September 2020

Oceanside Museum of Art
So Cal Contemporary Quilts
August-October 2020

Featured in Art Quilting Studio Summer 2020

Quilt Visions 2018

Fallbrook Art Center
Fallbrook Members' Honorable Mention 2018

Escondido Arts Partnership:

All About the Book 2016 2nd Place award
West Coast Fiber & Book Arts 2016 3rd Place
West Coast Fiber & Book Arts 2017
Visions Art Museum
Teri McHale: Remnants
July-September 2020

Oceanside Museum of Art
So Cal Contemporary Quilts
August-October 2020

Featured in Art Quilting Studio Summer 2020

Quilt Visions 2018

Fallbrook Art Center
Fallbrook Members' Honorable Mention 2018

Escondido Arts Partnership:

All About the Book 2016 2nd Place award
West Coast Fiber & Book Arts 2016 3rd Place
West Coast Fiber & Book Arts 2017
International Quilt Association, "A World of Beauty" 2008, Houston, TX
David
Praise IIIÂ Awarded 2nd Place in People, Portraits, and Figures category

Studio Art Quilt Associates, "A Sense of Time" 2008
Flood

International Quilt Association, "West Coast Wonders" 2008, Long Beach, CA
Ocotillo

Road to California 2008, Ontario, CA
Genesis

International Quilt Festival 2007, Houston, TX, "A World of Beauty"
Genesis

National Quilt Association 2007, Columbus, OH
Praise
Genesis

Pacific International Quilt Festival 2007, Santa Clara, CA
Orchid

Husqvarna Viking, "Imagine That!", Various venues, 2006-2008
Nana's Rose Garden
The Dance